Replacement Globes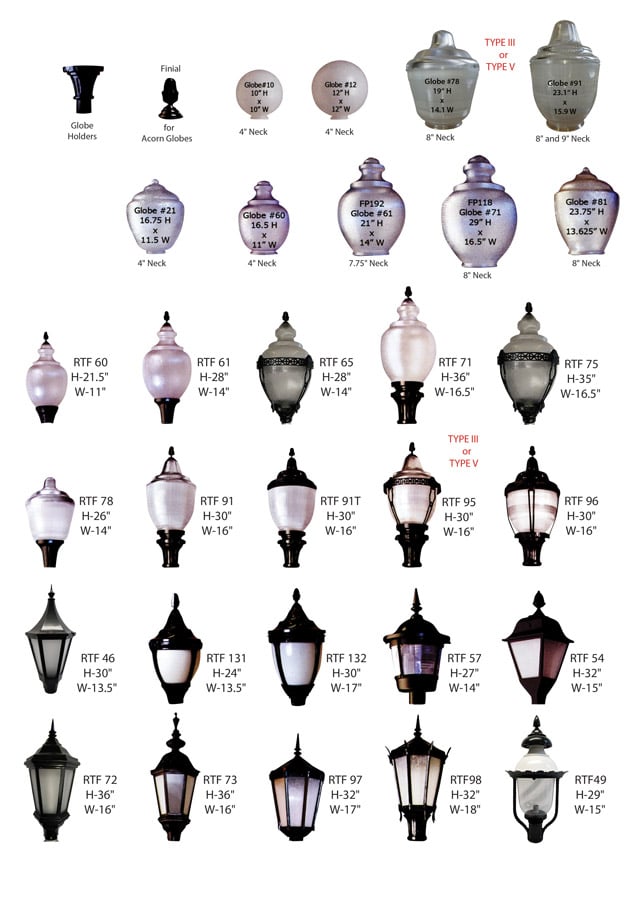 Type III and V State of the Art Prismatic Acorn Globes
Polycarbonate Acorn Globes
Retrofit Polycarbonate Acorn Globes
Retrofit Acrylic, glare-free, state of the art Prismatic Acorn Globes
Retrofit Heavy Duty Cast Aluminum Lanterns
Mel Northey has a large variety of contemporary, transitional, traditional, and historically styled light fixtures. They can use LED and HID bulbs. And you can get replacement globes for any of the lampposts and light fixtures you get with us. We offer sphere, acorn, and lantern globes, including acorn tops and caging decorations, and four-sided and eight-sided gaslight-style fixtures. Our state-of-the-art prismatic acorn globes come in Type III and Type V, meaning you could choose them to focus oblong along a walkway or around the lamp in a circle.
We have replacements for ball and acorn globes and four or eight-sided gaslight-inspired fixtures. We also provide globe holders and finials for your lamp's acorn globes as well. These traditional and contemporary style globes bring character and safety to your park or yard.
Mel Northey has offered our affordable outdoor lighting solutions, decorative street signs, and mailboxes. We have worked with Texans on their landscaping projects since 1979, selling straight to your contractor or developer. Together, we find the perfect fit aluminum-cast lamppost and light fixture for you. And in 2008, we started offering dark sky solutions. With these, your lamppost works with reduced energy usage, up to 42%, and reduced light pollution. Using dark sky lighting, you keep the Earth greener, night darker, and stars brighter.