Area And Street Lights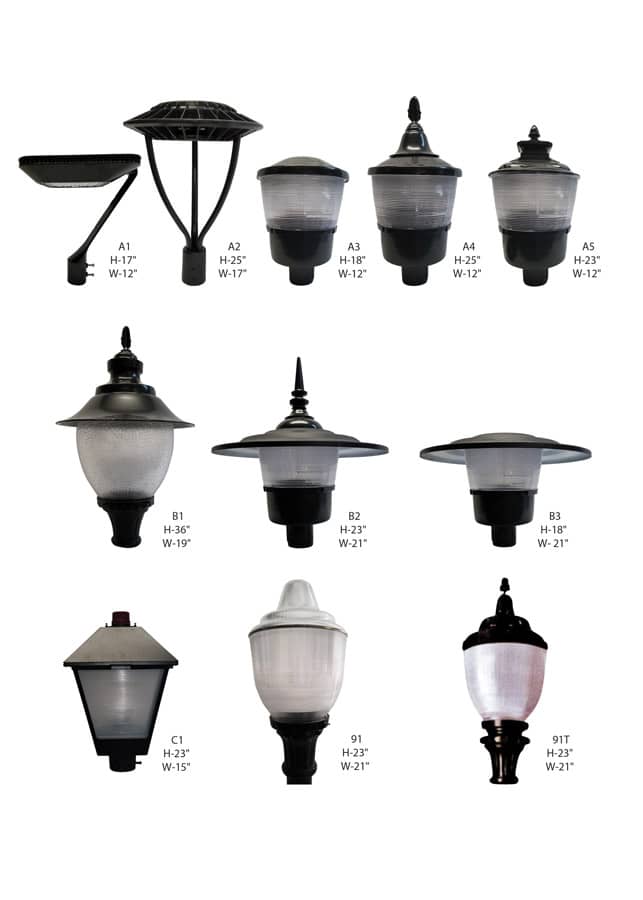 Dark Sky Friendly Options
Dimensions
Cat. No.
Height
Width
A1
17″
12″
A2
25″
17″
A3
18″
12″
A4
25″
12″
A5
23″
12″
B1
36″
19″
B2
23″
21″
B3
18″
21″
C1
23″
15″
91
23″
21″
91T
23″
21″
Mel Northey has a large variety of light fixtures. These can add some character and safety to your street or park walkway. Any of these can help get away from the city's industrial hooded photocells. Instead, you can use the same bright, energy-efficient, and long-lasting bulbs to light your way with these stylish designs. Choosing from our hooded crane (A1), centered saucer (A2), drum lights, pagoda lights, gaslight-style lantern, and acorn globes.
We can find the right style pole and fixture for your yard, park, and outdoor landscaping project. They come at an affordable price with durable strength to last a long time. In all these fixtures, you can opt to use dark sky solution lighting to reduce the light pollution in your area.
Ever since 1979, Mel Northey has provided Texans with our affordable decorative street lights, street signs, and mailboxes. We cover everything from the lamppost, base, light fixture itself, setting you up with the LEDs, and replacement globes. Mel Northey works directly with your builder, contractor, or developer, so we can set them up with the right fit for your project. As of 2008, we started offering dark sky options in our lights. With these, you reduce your light pollution and reduce your energy usage by 42%. So with dark sky, you keep the Earth greener, night darker, and stars brighter.