Washington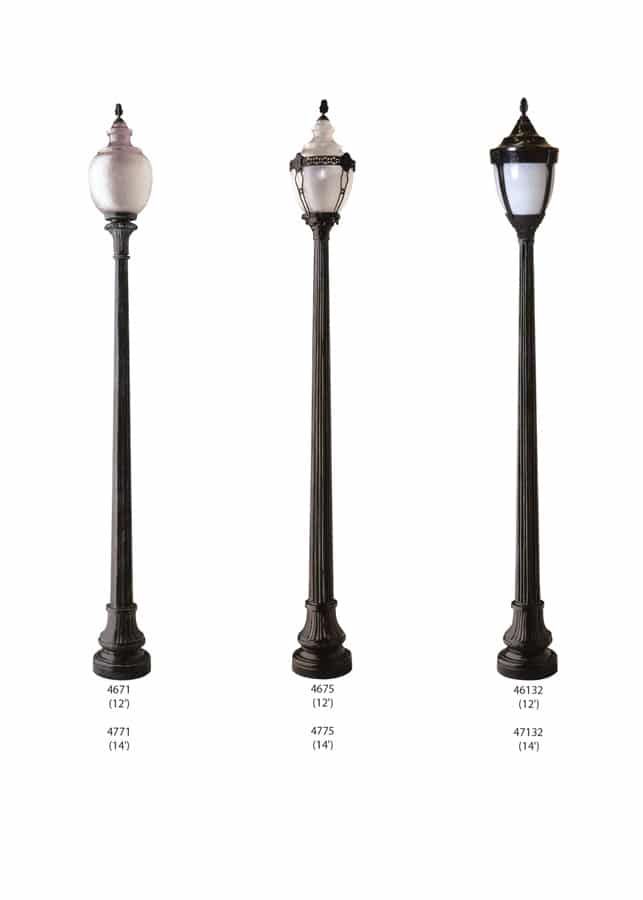 Residential Grade
Total Cast Aluminum Post with 16″ Diameter BASE and fluted tapered shafts
Overall Heights Listed Include Post and Luminaire
Dimensions and Price
Cat. No.
Height
4671
12′
4675
12′
46132
12′
4771
14′
4775
14′
47132
14′
Now Available as "Ground Burial" or "Surface Mount". Specify your choice with either GB or SM suffix on item number.
This page shows Surface Mount Post. Ground Burial optional. Specify SM or GB
Our Washington series of lamp posts take from neoclassical elements of architecture. Meaning, they mimic the columns and monuments you will find in our nation's capital. In return, this fluted post comes from the columns of classical Rome. Any of our acorn globe or four-sided geometric lanterns perch atop these posts. Washington lamps come in 10 ½ and 12' heights, Ground Burial or Surface Mounts, and have a 16'' diameter base with a tapered shaft.
The Washington's aluminum cast offers weather resistance, from rain, wind, snow, and frost. It offers a classic, traditional design in its sturdy cast. Here, you can light your path, park, or walkway to your front door with bright, long-lasting, and energy-efficient LEDs.
Mel Northey has been marketing our outdoor landscape solutions to the contractor, builder, and developer since 1979. We can set your contractor up with the right style and design of aluminum cast lamppost, decorative sign, or mailbox for your project, including our Washington Lamps. Besides, we have been offering dark sky solutions since 2008. You can opt for these in your Washington Lamp. With them, you reduce your energy consumption by up to 42% and your light pollution, helping to make a greener Earth, darker sky, and brighter stars.