Area And Street Light Poles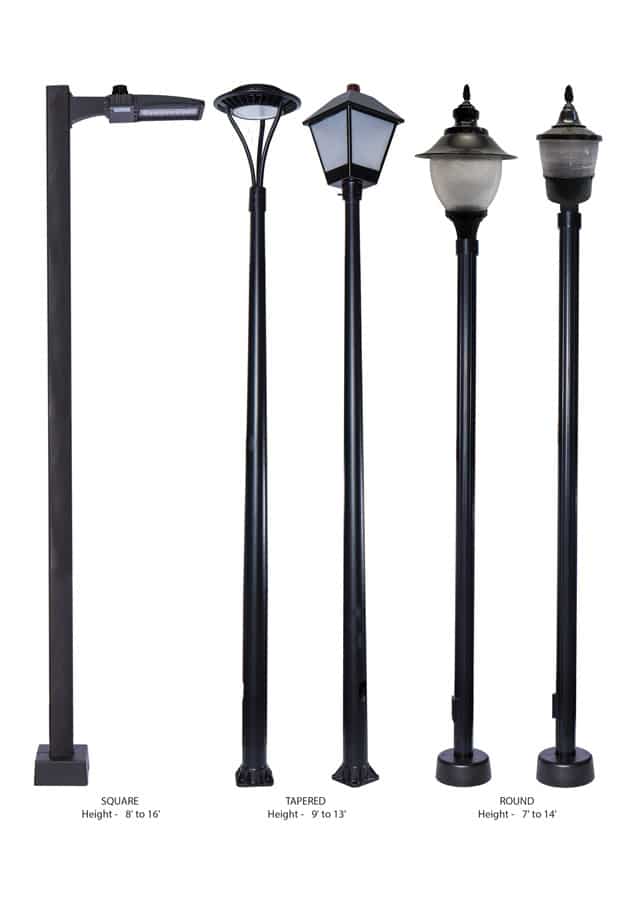 Seamless 6063-T6 Aluminum
Hand Hole
2″ x 4″ with Cover
Pole Top
Removable Top Cap, Tenon or Drilled For Side Mount Luminaire
Anchor Base Cover
ABS Color Match Available
Decorative Base Covers Optional at an Extra Cost
Black/Bronze Powder Coating Finish
Standard 1.25″ Wall
Dimensions
Cat. No.
Height
Square
8′ to 16′
Tapered
9′ to 13′
Round
7′ to 14′
A lamp post is a great way to bring about a new personality to your front entrance or neighborhood park. It both forms a function and can carry a nostalgic aesthetic with it. We can capture a variety of looks with even our basic light poles: square, tapered, round. You can even add a decorative base cover to them as well. To get an idea started on what that may look like, you can look at our other lamp posts. These are made of seamless 6063-T6 aluminum, an alloy made for architectural trim. It is durable anti-corrosive. All these posts are versatile to fit with any luminaires, mortised, tenoned, and drilled for top or side mounts.
Mel Northey's light poles are an affordable addition to brighten up any neighborhood street, park, or front lawn. With our lamps you can take advantage of the energy-efficient and long-lasting LEDs while sparking some personality, picking an alternative to the industrial hooded fixtures on most streets. The poles themselves come in varying heights and shapes, all with an access door for maintenance, optional anchor covers, and a 1.25'' wall.
Since 1979 Mel Northey has provided Texans with our streetlights, decorative street signs, and mailboxes at affordable prices. We typically market and sell directly to your builder, contractor, or developer. They can find the perfect fitting design of light pole for your landscape project. Plus, as of 2008, your Mel Northey streetlamp can come with dark sky solution lights. These mean to reduce the light pollution you contribute to the night sky. But they also reduce your energy usage by up to 42%. With these, you help keep the Earth greener, night darker, and stars brighter.