Excel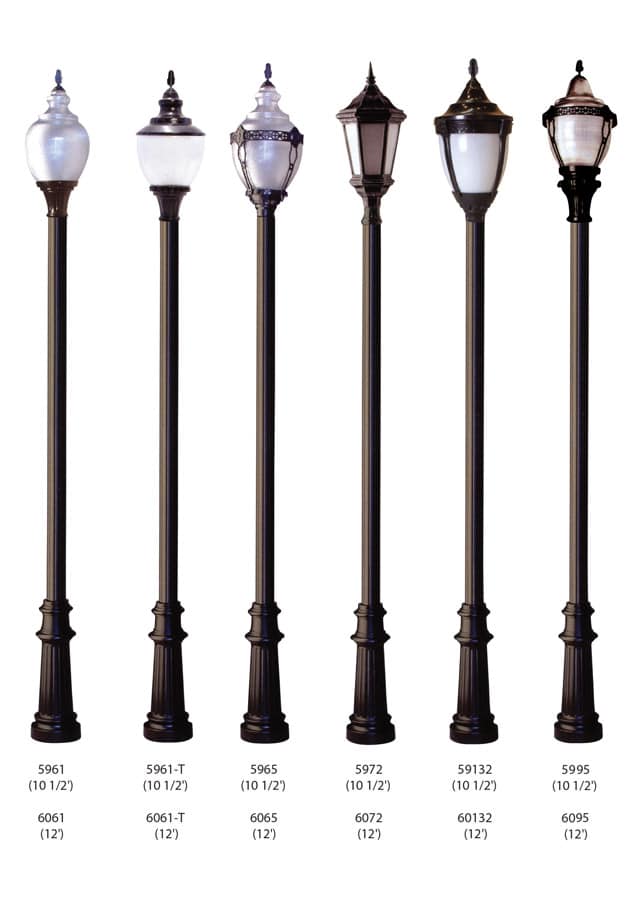 Municipal Grade Classic
Matching Streetscape Solutions
10 1/2′ to 12′ Posts
Now Available as "Ground Burial" or "Surface Mount"
4″ Heavy Duty Extruded Aluminum Post with .125″ Wall and 10″ Diameter x 25″ Height 1 piece Slip Over Cast Aluminum Base
Dimensions and Price
Cat. No.
Height
5961
10 1/2′
5961-T
10 1/2′
5965
10 1/2′
5972
10 1/2′
59132
10 1/2′
5995
10 1/2′
6061
12′
6061-T
12′
6065
12′
6072
12′
60132
12′
6095
12′
Our Excel lamp posts are a great selection for lights to loom over its patrons. They come in an art deco look of the 1920s. Their thick ridges give them an urban and industrial look. And they are one of our styles that can come in either 10 1/2-foot or 12-foot heights, overshadowing most others. And the two-foot base can come in either a Ground Burial or as a Surface Mount. We perch a variety of styles on top of these posts: eight-sided and four-sided lanterns, acorn and round globes, and more.
The Excel lamp post puts energy-efficient, long-lasting, and bright LED lights high above your pedestrians. Adding this lamp posts personalizes the architecture of your yard, home, or park, an art that more people are adopting today.
Since 1979, Mel Northey has marketed our lamps, signs, and mailboxes directly to your builder or developer. So, direct your contractor to us so we can set them up with the right fit for your outdoor project. And, as of 2008, we have offered all our options, including our Excel lampposts, with affordable dark sky solutions. You can put up these decorative lights while reducing your energy usage to 42% and the light pollution above your night sky.