Concord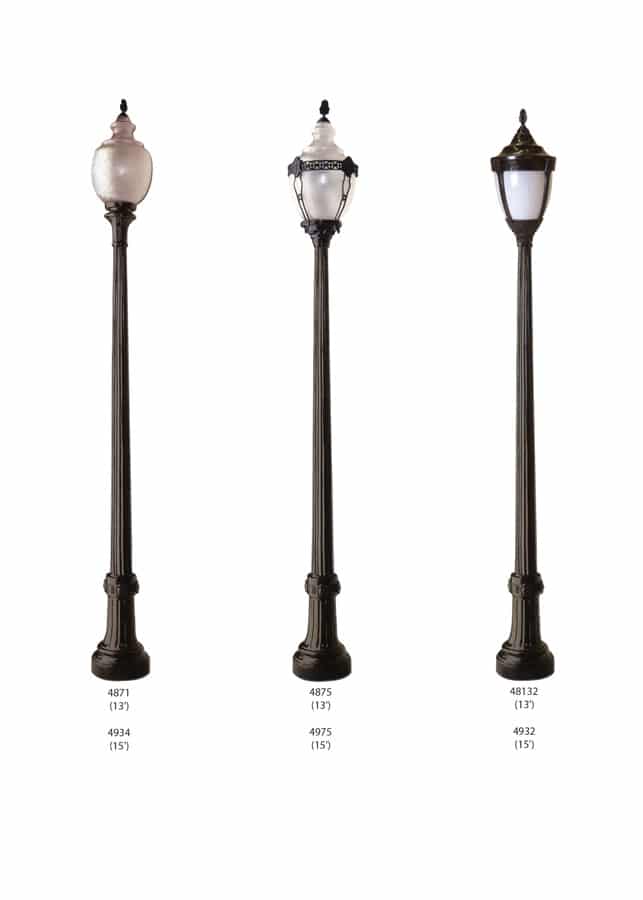 Residential Grade
Total cast aluminium post
Base diameter 16″
Fluted tapered shafts
Overall heights include post and luminaire
Dimensions and Price
Cat. No.
Height
4871
13″
4875
13″
48132
13″
4934
15″
4975
15″
4932
15″
The name Concord should bring up images of American heritage in mind. From the first stand American revolutionaries made toward to their independence to the 19th century American writers, Emerson, Hawthorne, Alcott, and Thoreau all collaborating. The Concord lamppost aims to draw from that colonial and pre-Industrial times. It comes in heights of 13 and 15 feet. It has a fluted, tapered base, and its wide, round base has a 16'' diameter. They come with acorn globe luminaires and options of caged or four-sided geometric ornaments.
With the Concord Lamp, you should make your pedestrian feel like their stepping off the railway platform from Boston. Perhaps, they are making the trek to Walden pond. Your lamppost brings the same bridge of community to nature, whether in the walkway to your front door or neighborhood park.
Since 1979, Mel Northey markets our affordable aluminum-cast lampposts, street signs, and decorative mailboxes to your contractor, builder, and developer. We work with them to find the right design for your landscaping project, including our Concord style lamp. Plus, you can opt in for our dark sky solutions. By using these in your Concord lamp, you reduce the light pollution you contribute to the night sky and your energy consumption by up to 42%. This way, you help make the Earth greener, night sky darker, and stars brighter for everyone passing by.