Street And Stop Signs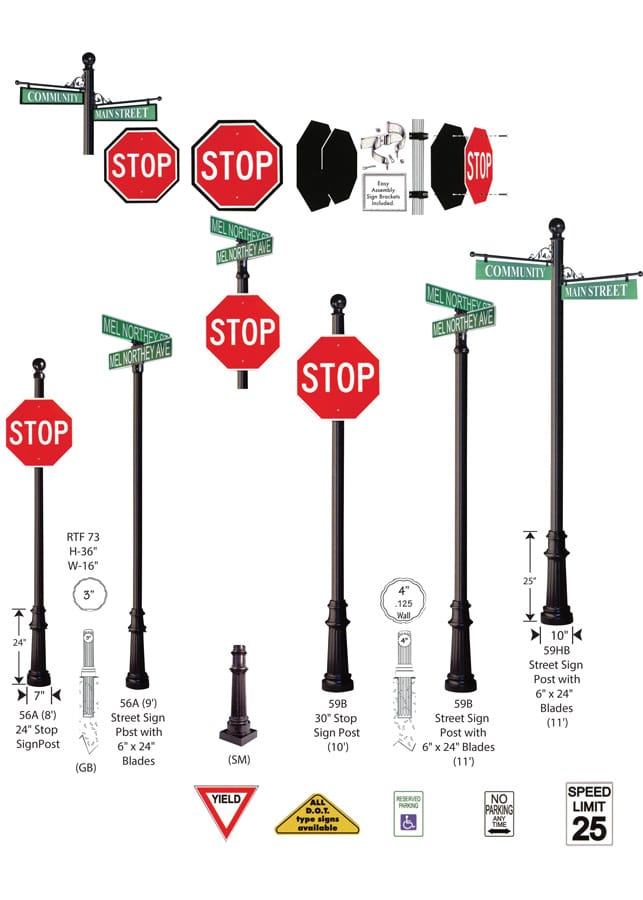 Residential Grade Classic Matching Streetscape Solutions
Add the "Look of Elegance" with 24″ and 30″ Stop Sign Backers
Easy Assembly Sign Brackets Included
All Stop Signs are "Engineer Grade" Red and White Reflective Sheeting
Great Selection of Signs and Backers Available
ESSEX features

3″ Medium Duty Extruded Aluminum Post
.072″ Wall and 7″ Diameter x 24″ Height
2 piece Cast Aluminum Base
RTF 73 Height 36″ Width 16″
Can be ordered as Ground Burial (GB) or Surface Mount (SM) Port

EXCEL features

4″ Heavy Duty Extruded Aluminum Post
.125″ Wall and 10″ Diameter x 25″ Height
1 piece Slip Over Cast Aluminum Base

BRAVO features

4″ Heavy Duty Extruded Aluminum Post
.125″ Wall and 12″ Diameter x 18″ Height
1 piece Slip Over Cast Aluminum Base
These signs and signposts are a great alternative to the standard U-channel post. These aluminum-cast poles bring a nostalgic feel from mid-century America streets. We have different sizes of poles, 3'' or 4' diameter poles with .125'' walls, to hold the sign. They come in 8, 9, 10, and 11-foot heights. And each sign comes with the brackets required for its easy assembly to the post. Our customizable street signs are 6'' by 24'' blades.
Our residential street signs have personality to them. Whether they are for laying your family name to your driveway or for the neighborhood streets, our posts add a decorative charm. They are excellent for both commercial or residential use. And they promise to form their function, with reflective sheeting to be seen at night. We have both ground burial and surface mounts available.
Mel Northey has provided our street signs and aluminum-cast posts, lamps, and decorative mailboxes since 1979. We have always marketed directly to the builder, contractor, and developer. But we can set them up with the street sign you want for your landscaping project. Ever since 2008, we have offered dark sky solutions. These reduce your light pollution and reduce your energy use by 42%. With these in your lampposts, you keep the night darker and the stars brighter.