Street And Stop Signs Bravo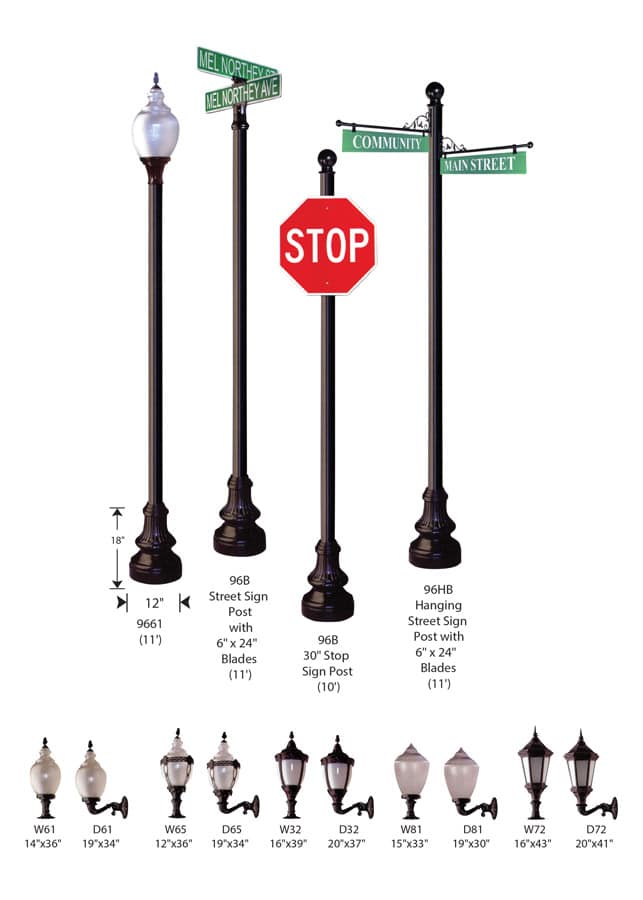 Residential Grade Classic Matching Streetscape Solutions
Add the "Look of Elegance" with 24″ and 30″ Stop Sign Backers
Easy Assembly Sign Brackets Included
All Stop Signs are "Engineer Grade" Red and White Reflective Sheeting
Great Selection of Signs and Backers Available
BRAVO features

4″ Heavy Duty Extruded Aluminum Post
.125″ Wall and 12″ Diameter x 18″ Height
1 piece Slip Over Cast Aluminum Base
Dimensions and Price
Cat. No.
Height
9661
11′
96B Street Sign Post with 6″x24″ Blades
11′
96B 24″ Stop Sign Post
10′
96HB Hanging Street Sign Post With 6″x24″ Blades
11′
Mel Northey's Bravo signpost is the same size as the Excel: a 4" diameter, heavy-duty, extruded aluminum-cast post. Its base is still a 1-piece slip over with a .125'' wall, but it has a wider 12'' diameter and is only 18'' in height. The base has a more intricate design with opulent Corinthian style ornamentation resembling flowing leaves and flowers.
Our Bravo signpost gives you a more detailed version of our streetscape solutions. This more lavish column can hang your sign or light up your walkway, street, or area with elegance. Your street sign can lay your family's name to your driveway or can replace your subdivision's street signs to add some personality to your neighborhood.
Mel Northey has marketed our signs and signposts, lamps and lampposts, and decorative mailboxes directly to your builder and contractor since 1979. So, you should set us up with your developer so we can find the perfect fitting street sign and post for your neighborhood or front yard project.
In 2008, we began offering dark sky solutions. By directing your lamp's light downward, where you actually use it, we reduce light pollution. Plus, they use less energy and reduce carbon emissions. With these in your outdoor lighting, you can keep America greener, night darker, and stars brighter.