Belle Chase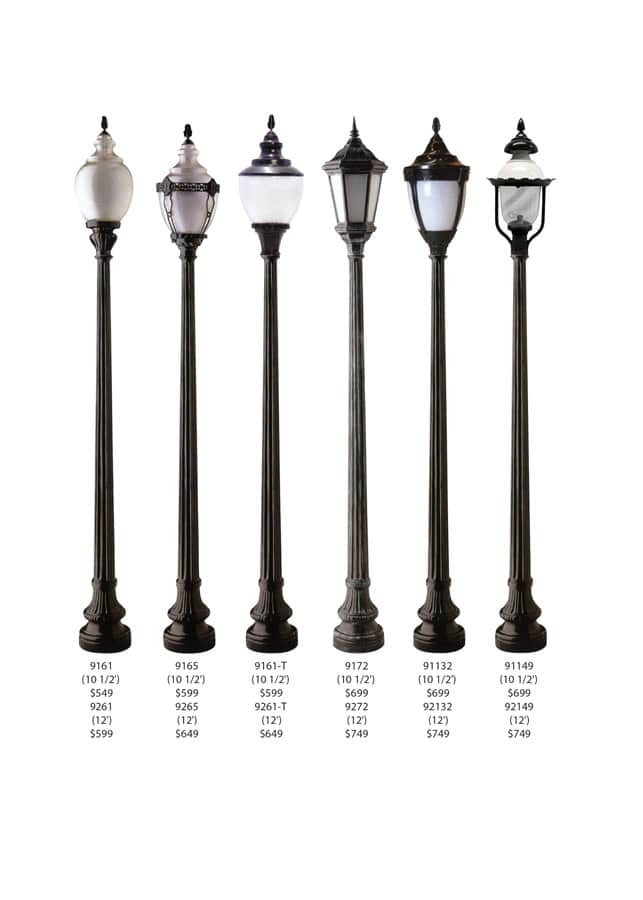 The Best Value on Residential Grade Light Posts in America Today!
Residential Grade Classic AFFORDABLE
Matching Streetscape Solutions
Total Cast Aluminum Post with 13″ Diameter BASE
Overall Light Post Heights 10.5′ and 12′
Overall Heights Listed Include Post and Luminaire
Dimensions and Price
Cat. No.
Height
Price
9161
10 1/2′
$549
9165
10 1/2′
$599
9161-T
10 1/2′
$599
9172
10 1/2′
$699
91132
10 1/2′
$699
91149
10 1/2′
$699
9261
12′
$599
9265
12′
$649
9261-T
12′
$649
9272
12′
$749
92132
12′
$749
92149
12′
$749
The Best Value on Residential Grade Light Posts in America Today!
Our Belle Chase lamp means to look from a colonial French architecture. Its pole is slightly tapered upward with deep, uneven fluting, and, below a ridge, its base ends in even fluting on its reverse-tapered base. From there, its 13'' diameter base turns upward and rests as a round crest around the Ground Burial or Surface Mount. It comes in heights of 10 ½ and 12 feet, including the luminaire.
The base of the Belle Chase has a floral shape to its edge, taking inspiration from the upturned leaves of the French fleur-de-lis. The Belle Chase can bring an air of an old cobblestone road to your street. Or bring images of a chateau to your park or home.
Mel Northey has been marketing our lampposts, decorative signs, and mailboxes directly to your builder, contractor, and developer. We set them up with the perfect fit, style, and design of outdoor lamp for your lighting project, like our Belle Chase lamp. Additionally, since 2008, we have provided dark sky solutions too. You can opt for these in your Belle Chase lamppost to reduce your energy usage by 42% and light pollution to keep the Earth greener, the night sky darker, and stars brighter.