Federal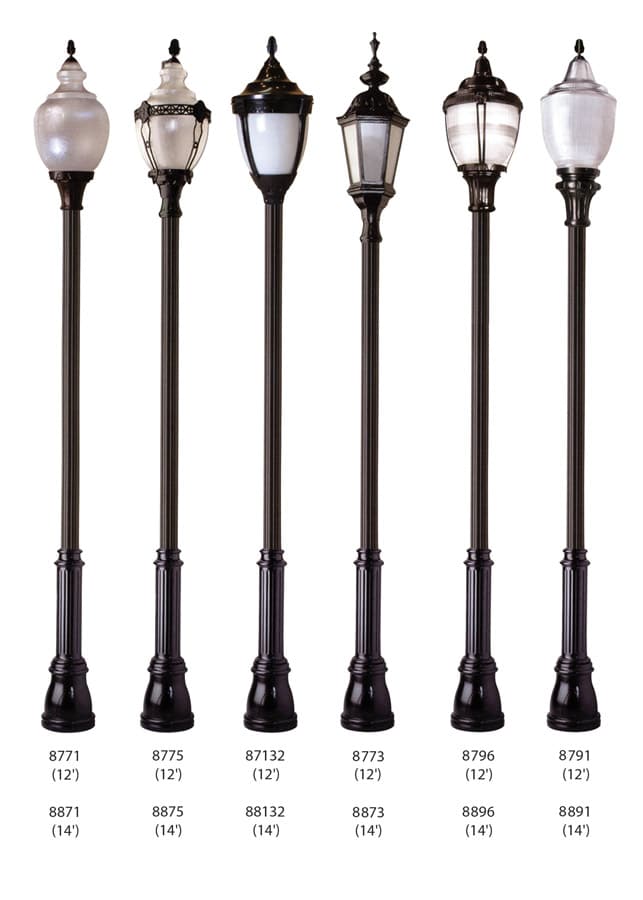 Municipal Quality with extra heavy duty Core Cast Base
Tubular Post Surface Mount
4″ x.125″ wall lightly Fluted
Tubular Post With 11″ Diameter Core Cast Base
38″ tall Available in 12′, 14′ and 16′ Heights.
Overall Heights Listed include Post and Luminaire
Dimensions and Price
Cat. No.
Height
8771
12′
8775
12′
87132
12′
8773
12′
8796
12′
8791
12′
8871
14′
8875
14′
88132
14′
8873
14′
8896
14′
8891
14′
*** Optional 16′ available
The Federal selection of lampposts utilizes the neoclassical design principles most popular soon after our nation's founding. Its rounded base and thicker bottom calls to a minimal, simple, but the grand style of Roman architecture, but how it was used in our early country. Our Federal lamp comes with Surface Mounts our Ground Burial options. Plus, these tower above you, one of our posts that come in either 12 or 14 feet.This dramatic column puts the bright lumens, energy-efficiency, and durability of LED lights above your head. The Federal lamp post will impose a feeling of grandeur in your park or yard. It brings forth the spirit of the early 19th century in Boston or Monticello.
As of 1979, Mel Northey has marketed all our products, our aluminum-cast lampposts, signposts, and mailboxes to your developer, builder, or contractor. Send your builder to us and we can help them find the perfect design for your outdoor lighting project, especially if the Federal model is for you. As of 2008, we have offered dark sky solutions. This means, your Federal lamp post will use 42% less energy and reduces the light pollution you contribute to the night sky above you. With this, you maintain a greener Earth and a darker night with brighter stars.