Cambridge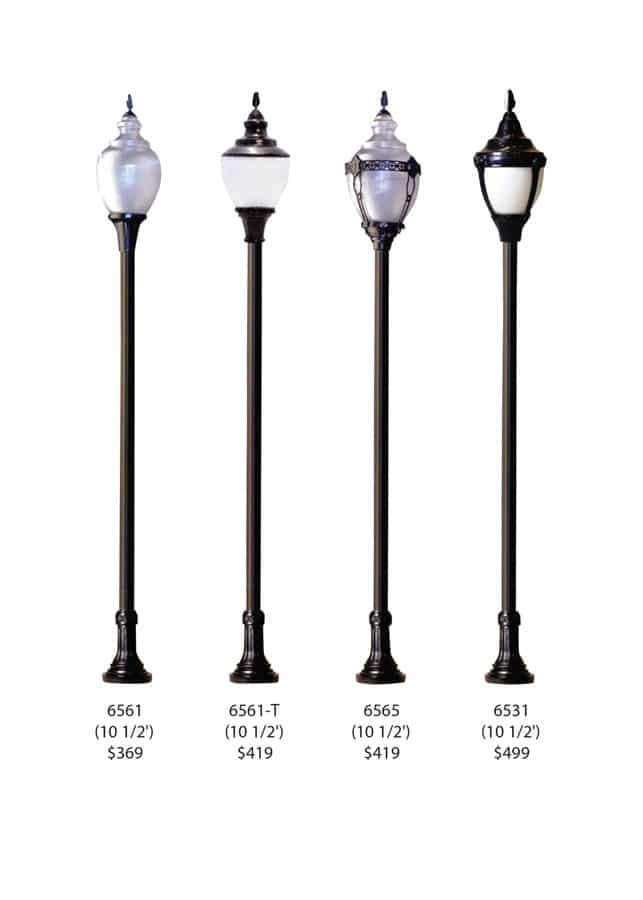 Residential Grade Classic Matching Streetscape Solutions
New Lightweight 10.5′ to 12′ Posts
Now Available as "Ground Burial" or "Surface Mount"
Specify your choice with either GB or SM suffix on item number
3″ Medium Duty Extruded Aluminum Post with .072″ Wall and 7″ Diameter x 24″ Height 2 piece Cast Aluminum Base
Available in 10 1/2′ to 12′ mounting heights. Base dimensions 16″ x 11″
Dimensions and Price
Cat. No.
Height
6561
10 1/2′
6561-T
10 1/2′
6565
10 1/2′
6531
10 1/2′
This lamppost is named for the renowned historical academy. Its thin, smooth, and simple design can call back to King's College Chapel. It has a non-fluted and non-tapered pole and a reverse-tapered base with a diameter of 7''. It can come with a Ground Burial or Surface Mount setup and is 10 ½ foot heights. The lamppost is a 3'' wide post of medium-duty extruded aluminum, with a .072'' wall. They come in acorn globe tops with classical or modern caging.
Our Cambridge lamppost brings you the feeling of walking on the cobblestone pathways through an old and classic campus. It makes a beautiful addition to anyone's front yard or neighborhood sidewalk. The Cambridge lamp can light up your alfresco patio area or garden at night.
Mel Northey has marketed directly to your contractor, builder, and developer ever since we started in 1979. We can help them with our affordable aluminum-cast lampposts, street signs, and decorative mailboxes for your landscaping project, including a Cambridge style lamp. As of 2008, we offer dark sky solutions. With a dark sky-lit Cambridge lamp, you can reduce your energy consumption by 42% and the light pollution you contribute to the night sky. With these, you make the Earth greener, night darker, and stars brighter.