Grand Federal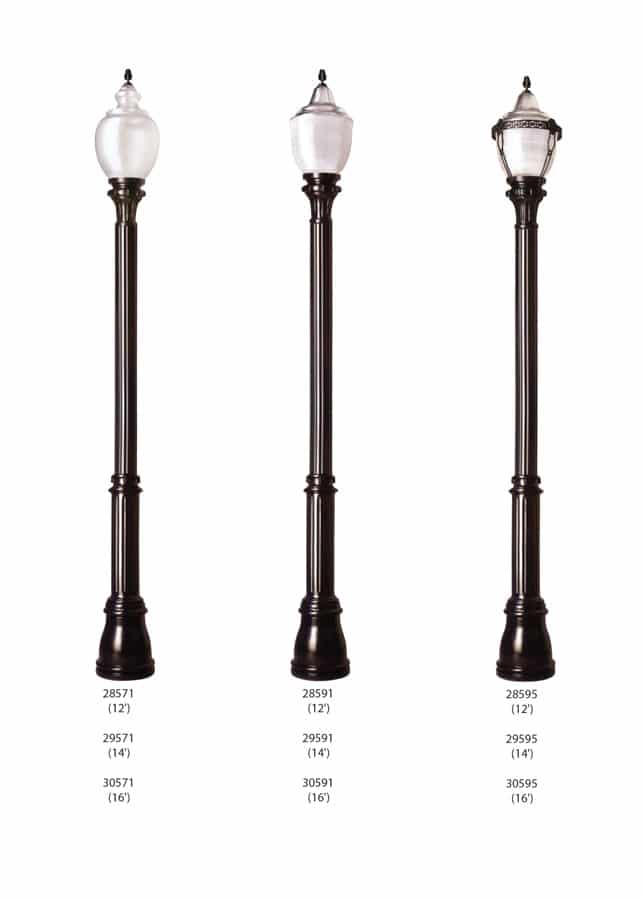 5″ Deep Evenly Fluted Tubular Non Tapered
Municipal Quality With Extra Heavy Duty Aluminum Core Cast
15″ x 45″ Base for extra strength and durability.
Non tapered deep evenly fluted Heavy Duty Tubular Shaft with .160″ Wall
Overall light post 12′, 14′ and 16′ Heights.
TYPE III or TYPE V Prismatic Lense Standard with Reduced Glare
Overall Heights Listed include Post and Luminaire
Dimensions and Price
Cat. No.
Height
28571
12′
$899
28591
12′
$999
28595
12′
$1099
29571
14′
$939
29591
14′
$1049
29595
14′
$1149
30571
16′
$979
30591
16′
$1099
30595
16′
$1199
* Please be advised all prices are subject to change.
Similar to our Federal lamp, this one offers Extra Heavy-Duty Municipal Grade Aluminum durability. It has a 5'' wide evenly fluted and non-tapered shaft, .16'' wall, 15'' diameter base, and 45'' tall base. The Grand Federal has an extra tall and extra-wide, rounded base. The Grand Federal lamp has the simple, neoclassical elements of our capital buildings and monuments, taken from Roman architecture. You have a variety of acorn-style globes to pick for the lantern. And the lens can come in either Type III or Type V, dispersing light over your walkway or around in a circle.This Heavy-Duty version of the Federal lamp calls back even more to giant stone columns like in the Parthenon. These imposing lamps, standing at 12', 14', and 16' tall can light the pedestrian's way from up high. The Grand Federal can bring the nostalgia of the architecture going on during the early 19th century forward to your neighborhood park.
Since 1979, Mel Northey has directly worked with your developer and builder with our affordable aluminum-cast lamps, street signs, and decorative mailboxes. We find the perfect fit, style, and design-wise, for your landscaping project, including the Grand Federal lamp. In 2008, we began providing dark sky solutions. You can utilize these solutions and reduce your energy usage by 42% and reduce light pollution. Together, we help keep the Earth greener, night darker, and stars brighter.