Liberty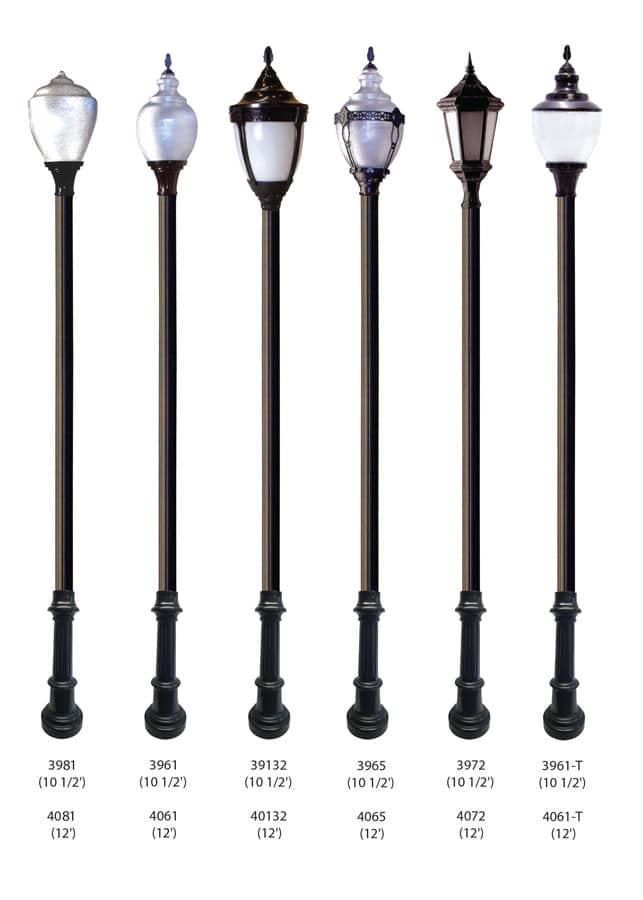 3″ Medium Duty Extruded
Municipal Grade Classic
Matching Streetscape Solutions
10 1/2′ to 12′ Posts
Now Available as "Ground Burial" or "Surface Mount"
4″ Heavy Duty Extruded Aluminum Post with .125″ Wall and 14″ Diameter x 19″ Height 1 piece Slip Over Cast Aluminum Base
Dimensions and Price
Cat. No.
Height
3981
10 1/2′
$469
3961
10 1/2′
$469
3961-T
10 1/2′
$519
3965
10 1/2′
$519
3972
10 1/2′
$619
39132
10 1/2′
$619
4081
12′
$529
4061
12′
$529
4061-T
12′
$579
4065
12′
$549
4072
12′
$649
40132
12′
$649
* Please be advised all prices are subject to change.
56-SM Surface Mount – On picture
Now Available as "Ground Burial" or "Surface Mount". Specify your choice with either GB or SM suffix on item number.
This page shows Surface Mount Post. Ground Burial optional. Specify SM or GB
These uniform round poles and bases harken back to a colonial time on America's streets. We want this selection to resemble the seat of Lady Liberty herself. On top of these perches, you can pair four or eight-sided lantern heads, or acorn or round globes. For an added $30, you can get a 12-foot Liberty post, as opposed to our 10 1/2-foot poles. Their bases also come in Surface Mount and Ground Burial varieties.
Our decorative and durable Liberty lamp posts use energy-efficient and long-lasting LED lights. Adding this colonial design to your home or neighborhood is a good way to personalize it with your own touch. More and more, people are learning how to add style to our appliance's function.Mel Northey has marketed our affordable aluminum-cast lampposts, street signs, and decorative mailboxes directly toward the builder and developer since 1979. So, whether your lighting project involves an addition to a park or illuminating your patio, direct us towards your contractor, and we can help them find the right style.
Additionally, since 2008, we have added dark-sky options to our selection. You can opt for these in your Liberty lamps, so you reduce your energy usage by 42% and the light pollution in your own night sky. Through these, we make America a greener land and give our country brighter stars.