Sconces And Pier Mounts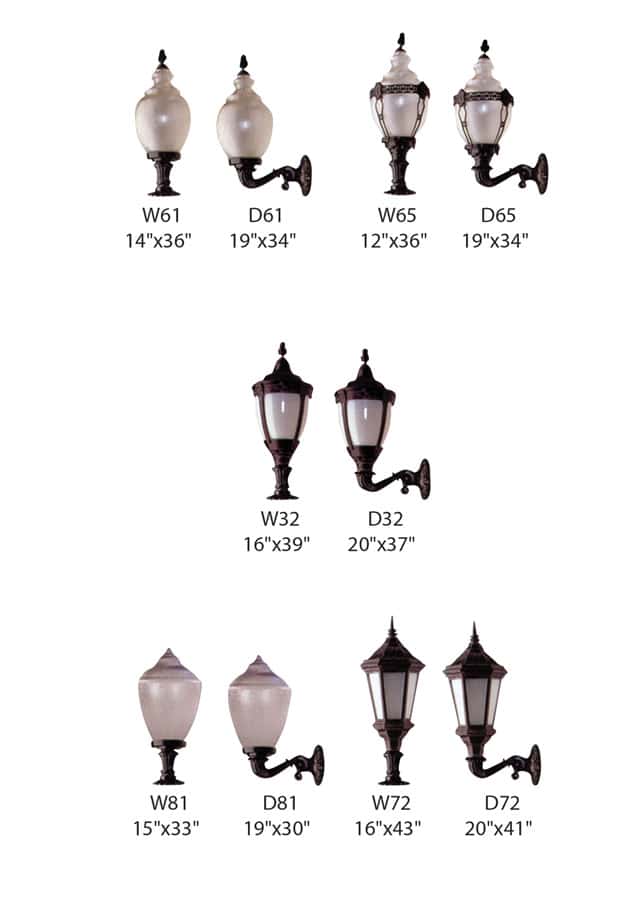 Dimensions and Price
Cat. No.
Height
W61
14″x36″
D61
19″x34″
W65
12″x36″
D65
19″x34″
W32
16″x39″
D32
20″x37″
W81
15″x33″
D81
19″x30″
W72
16″x43″
D72
20″x41″
Our sconces and wharf lights are perfect for adding safety to your front yard or pier. We offer five different traditional designs. And each works as either a sconce or pier mount light. These durable lights add a sense of classy personality when it comes to your pier or front door.
These outdoor lights add character to your home at night. In addition, they provide a sense of security and safety. Our five different acorn globe and gaslight lantern-style sconces make excellent lamps for above your front door or at a pier.
Mel Northey has been marketing our affordable, aluminum-cast lampposts, decorative street signs, and mailboxes to developers and builders since 1979. If you send your contractor our way, we can help them find the perfect fitting light for your landscaping or home remodeling project.
As of 2008, we also started offering dark sky options. With these in your sconce or pier mount, you can reduce your energy usage by 42% and reduce your light pollution. Together, we are able to keep the Earth greener, night sky darker, and stars brighter.