United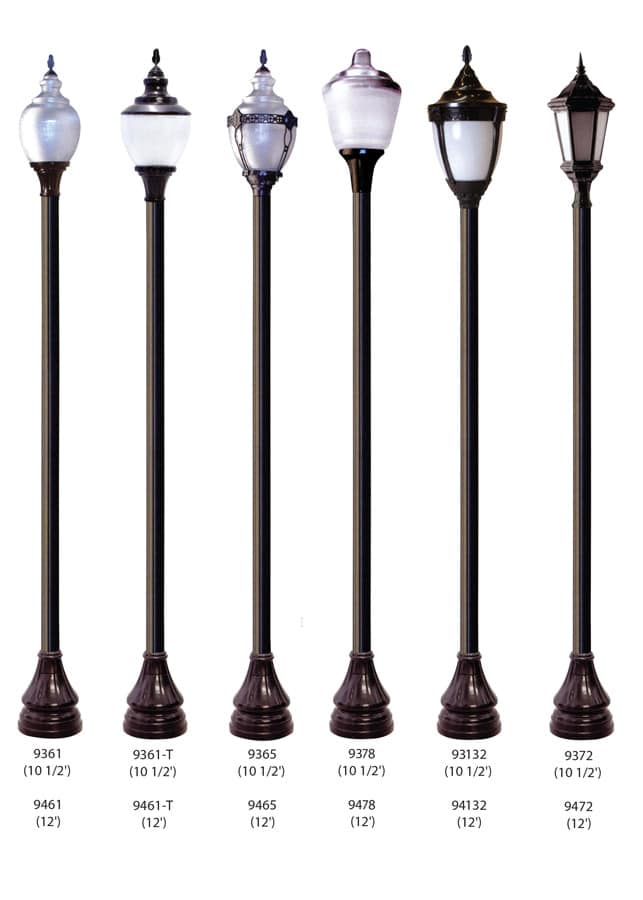 3″ Medium Duty Extruded
Municipal Grade Classic
Matching Streetscape Solutions
10 1/2′ to 12′ Posts
Now Available as "Ground Burial" or "Surface Mount"
4″ Heavy Duty Extruded Aluminum Post with .125″ Wall and 14″ Diameter x 19″ Height 1 piece Slip Over Cast Aluminum Base
Dimensions and Price
Cat. No.
Height
9361
10 1/2′
9361-T
10 1/2′
9365
10 1/2′
9378
10 1/2′
93132
10 1/2′
9372
10 1/2′
9461
12′
9461-T
12′
9465
12′
9478
12′
94132
12′
9472
12′
56-SM Surface Mount – On picture
Now Available as "Ground Burial" or "Surface Mount". Specify your choice with either GB or SM suffix on item number.
This page shows Surface Mount Post. Ground Burial optional. Specify SM or GB
The United Lamppost is built with a sturdy mindset. This stocky base calls back to the streets of any nostalgic period from a gas-light America to walking through a park in the early twentieth century. It can come in a variety of lanterns, round or acorn globes, or four-sided to eight-sided designs. You can choose for either a Surface Mount or Ground-Burial set-up. And you can get these particular posts at a taller 12-foot height for an added $30.The United cast-aluminum lamppost promises to last a long time. It evokes the metal trees lighting up the walkways in Central Park or Houston's Memorial Park.
Ever since 1979, Mel Northey has marketed our affordable lamps, posts, signs, and mailboxes, directly to the contractor, developer, and builder market. As of 2008, we have offered our dark-sky solutions. Your United Lamppost can utilize these technologies that limit the light pollution in your night sky. Whether this lamp will buttress the walkway up to your front door or will tower over patrons of the neighborhood park, we help the contractor find the right style for the job.