Commercial and Street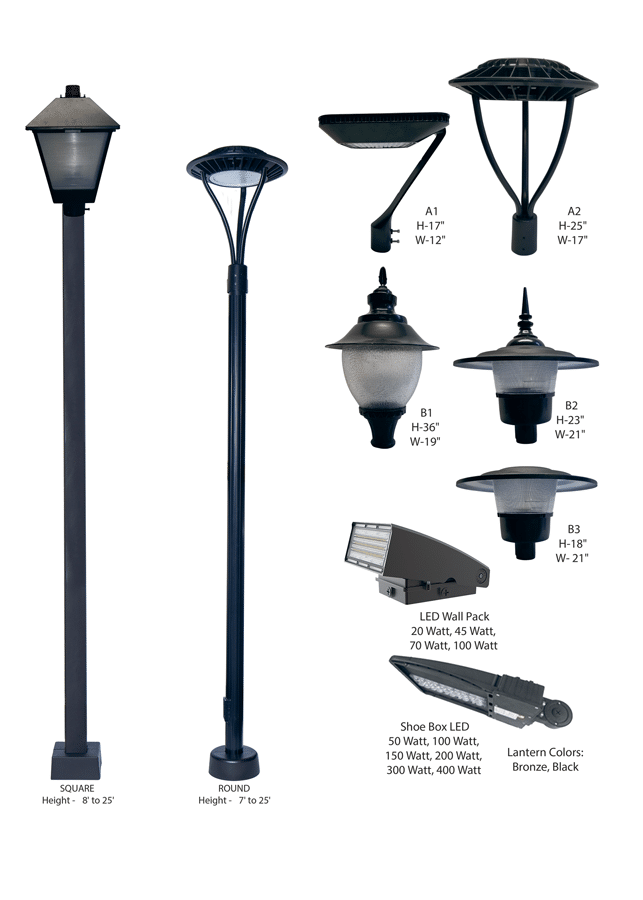 Seamless 6063-T6 Aluminum
Hand Hole 2″ x 4″ with Cover
Pole Top
Removable Top Cap, Tenon or Drilled For Side Mount Luminaire
Anchor Base Cover
ABS Color Match Available
Decorative Base Covers Optional at an Extra Cost
Bronze Powder Coating Finish
Standard 1.25″ Wall
Custom Heights Available
Metal Halide High Pressure Sodium LED Options Available
Contact Mel Northey Co. for Current Pricing
Pole Dimensions
Type
Height
Square
8′ to 25′
Round
7′ to 25′
Light Dimensions
Cat. No.
Height
Width
A1
17″
12″
A2
25″
17″
B1
36″
19″
B2
23″
21″
B3
18″
21″
LED Lights
Cat. No.
Power
Led Wall Pack
20 Watt,
45 Watt,
70 Watt,
100 Watt
Shoe Box LED
50 Watt,
100 Watt,
150 Watt,
200 Watt,
300 Watt,
400 Watt
Lantern Colors:
Bronze, Black
Make your outdoor space safer for customers by lighting it up with a commercial or street light from Mel Northey! Our commercial lights come in a variety of sizes and shapes, all designed with energy-efficiency and durability in mind.There are many ways you can customize your commercial street light. We offer square or round base options, above ground or burial mounts, and a selection of ABS color match options. Each light is hand constructed by our experienced craftsman, and are even available in custom heights.
Furthermore, there are many different cap and luminaire options to choose from. Our entire selection gives you the opportunity to add a unique and creative feature to your company's outdoor space.
Mel Northey has been creating and designing exquisite light posts since 1979. We strive to remain an environmentally-friendly and energy-efficient company. As a result, our lights are designed to incorporate the latest lighting technology, like LED, that makes the above mission possible. Call Mel Northey and request our catalog!