Courtyards Lights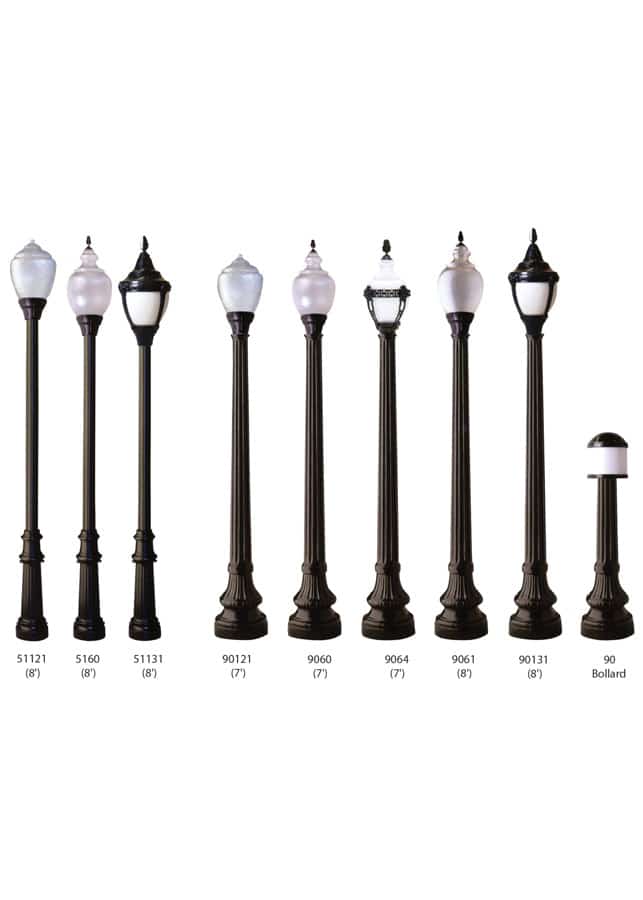 The Best Value on Residential Grade Light Posts in America Today!
Total Cast Aluminum Post and fluted tapered Shaft.
7′ to 8′ Heights
Overall Heights Listed Include Post and Luminaire
Dimensions and Price
Cat. No.
Height
51121
8′
$329
5160
8′
$329
51131
8′
$449
90121
7′
$429
9060
7′
$429
9064
7′
$459
9061
8′
$459
90131
8′
$539
90
Bollard
$419
* Please be advised all prices are subject to change.
These decorative lights can add a bit of character and safety to a courtyard, park, front yard, or path on campus. These particular light posts and light fixtures stand at 7 or 8 feet tall. Except our Bollard, which is a great option for any wharf or dock lighting or parking lot or lighting near traffic. While the Bollard uses a drum light globe, the rest have acorn globe fixtures, with cage decoration options too. These residential grade light posts come with tapered and fluted shafts. There is a thinner and thicker option, the thicker with a flowing upturned base.
Since 1979, Mel Northey Company offers an affordable line of streetscape products for the Builder, Developer, and Contractor on a direct purchase basis. Our Cast Aluminum products offer a lightweight yet durable rust-free line of antique reproduction streetlights, yard lights, mailboxes with posts, and decorative street and stop sign posts. And as of 2008, we have dark sky solution lighting. These reduce your energy usage and light pollution, staying green and keeping the night darker and stars brighter.