Essex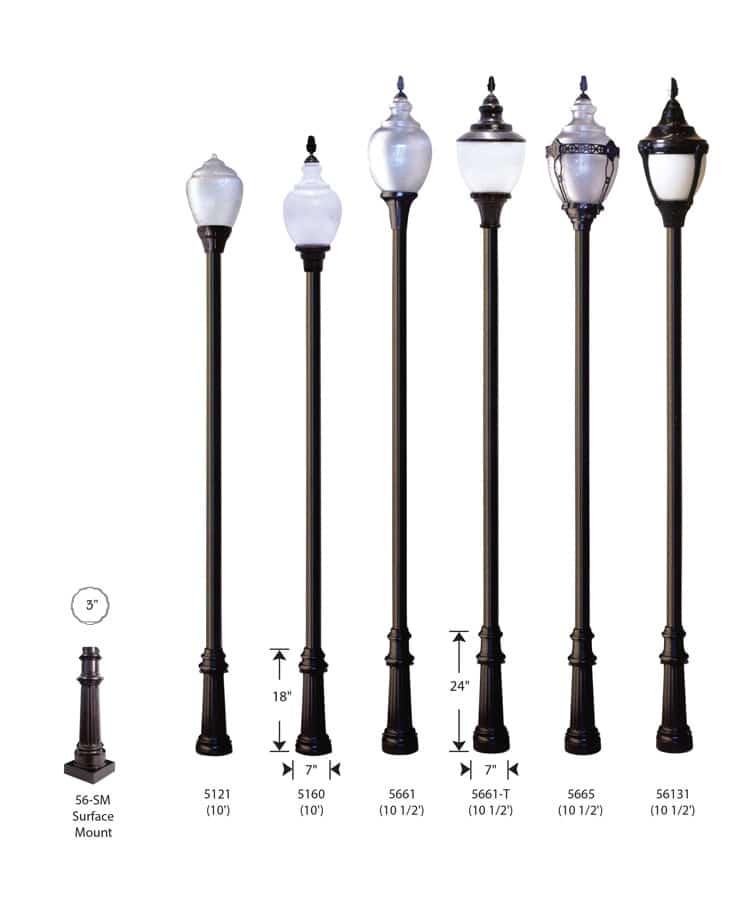 3″ Medium Duty Extruded
Total cast aluminium post
Aluminum Post with .072″ Wall and 7″ Diameter x 24″ Height 2 piece Cast Aluminum Base
Available as "Ground Burial" or "Surface Mount".
Dimensions and Price
Cat. No.
Height
5121
10′
5160
10′
5661
10 1/2′
5661-T
10 1/2′
5665
10 1/2′
56131
10 1/2′
56-SM Surface Mount – On picture
Now Available as "Ground Burial" or "Surface Mount". Specify your choice with either GB or SM suffix on item number.
12' Heights available on #56 posts add $40

Our Essex Lampposts mirror old Cottage-style architecture. This selection of lampposts comes in acorn globes or four-sided design options that capture the nostalgia of English folklore. You can choose to have them with either Surface Mounts or Ground Burial set-ups. While our 10' and 10 ½' products are pictured, you can opt for a 12' Essex post for an extra $40.This charming, traditional design is reminiscent of Victorian-styles or the gas lamps of the 19th century. These durable, aluminum-cast lampposts are meant to bring your home or neighborhood back to the country gardens of Essex.
Since 1979, we market our catalogs of lamps, posts, and decorative signs and mailboxes direct to the builder. So, whether you are sprucing up your home or this is an addition to beautify the street or park, we help your contractor find the right style for them. Our Essex lamps can also utilize our dark sky solutions for limiting energy use and light pollution in the night sky.