Grand Capitol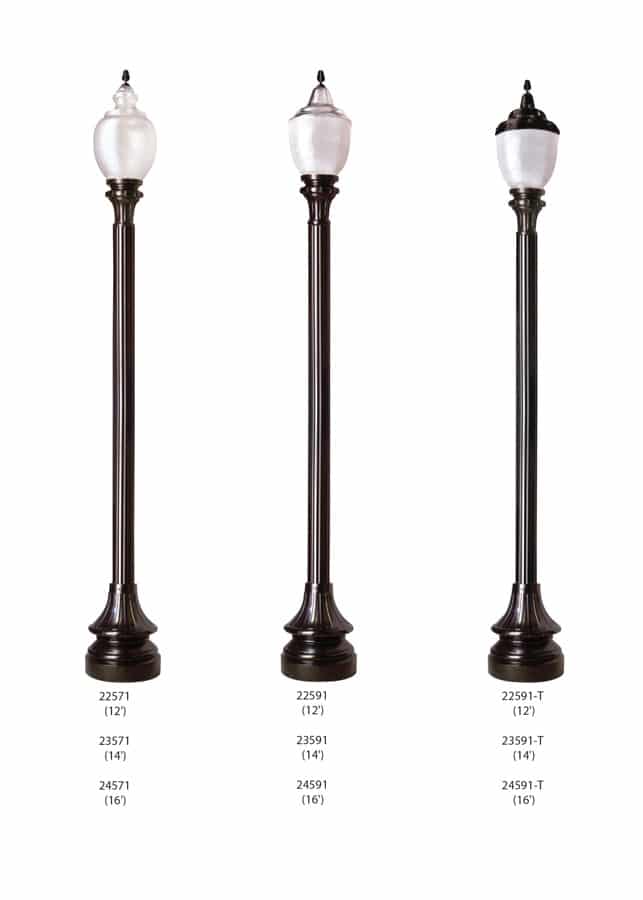 5″ Deep Evenly Fluted Tubular Non Tapered
Municipal Quality Heavy Duty Aluminum Core Cast
17″ x 21″ Base and Heavy Duty Non-Tapered 5″ Aluminum Tubular Shaft with .160″ Wall
Overall light post 12′, 14′ and 16′ Heights.
TYPE III or TYPE V Prismatic Lense Standard with Reduced Glare
Overall Heights Listed include Post and Luminaire
Dimensions and Price
Cat. No.
Height
22571
12′
22591
12′
22591-T
12′
23571
14′
23591
14′
23591-T
14′
24571
16′
24591
16′
24591-T
16′
The Grand Capitol is another option to achieve the neoclassical style of our Capitol option. But, with this, you have a Municipal Quality Heavy-Duty aluminum core cast lamp pole. This means it has a 5'' wide shaft, .16'' wall, 17'' diameter base, and a 21'' tall base. Our Grand Capitol lampposts come in 12', 14', and 16' heights, towering over most of our other options. You have several choices of globes. Our Type III or Type V prismatic lens can disperse the light across the walkway under or in a round perimeter around the lamp.
This heavy-duty municipal quality Grand Capitol makes a great addition to your neighborhood or home. The neoclassical style can add a regal quality to your city park or school campus. It has an elegant, traditional design with sturdy durability.
We have marketed directly to your contractor since 1979. Mel Northey can set up your builder and developer with the right style and design of affordable aluminum-cast lampposts, decorative street signs, and mailboxes for your landscaping project. The Grand Capitol lamppost might be the right style and grade lamppost for your outdoor lighting. In 2008, we started offering dark sky solutions in our lighting. With these in your Capitol lamp, you can reduce your light pollution and energy consumption by up to 42%.