The Grands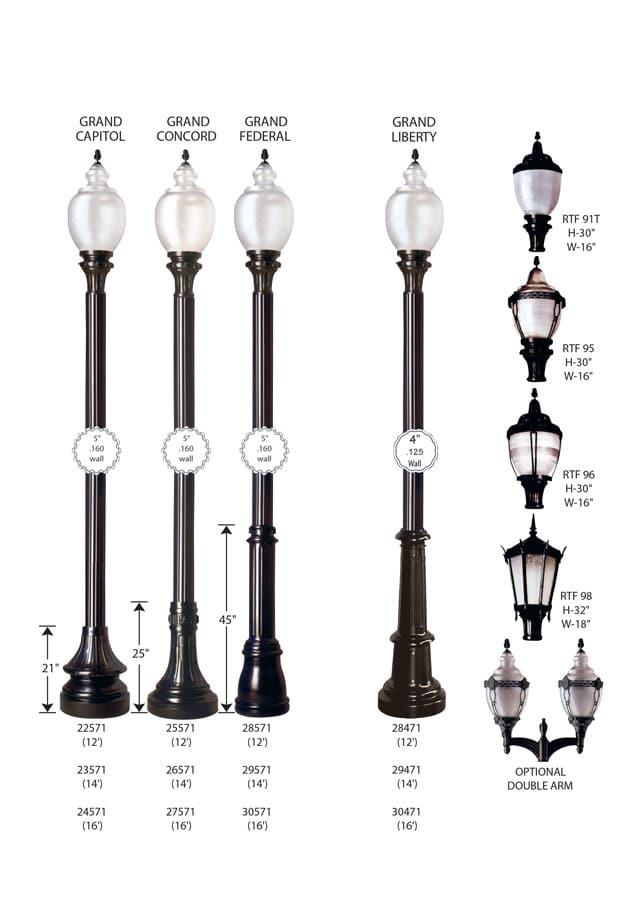 Municipal Quality with Extra Heavy Duty Strength and Durability
Overall Heights 12′, 14′ and 16′
Overall Heights Listed include Post and Luminaire
Additional luminaire options available
TYPE III or TYPE V Prismatic Lense Standard with Reduced Glare
Grand Capitol, Grand Concord, Grand Federal
Municipal Quality Heavy Duty Aluminum Core Cast Bases
Heavy Duty Non-Tapered 5″ Aluminum Tubular Shaft with .160″ Wall
Grand Liberty
4″ Heavy Duty Extruded Aluminum Post with .125″ Wall and 14″ Diameter x 32″ Height
One piece Cast Aluminum Base
Dimensions and Price
Cat. No.
Height
22571
12′
25571
12′
28571
12′
28471
12′
23571
14′
26571
14′
29571
14′
29471
14′
24571
16′
27571
16′
30571
16′
30471
16′
Municipal Quality with extra heavy-duty Strength and Durability.
Overall Heights Listed include Post and Luminaire.
Our grand lamp collection includes the Liberty, Federal, Concord, and Capitol lamp designs. Each one features a nostalgic and historical design that harkens back to the Early 20th Century. All of the Mel Northey lamp posts are made with durability and strength in mind. However, we also add features and styles to our lamp posts that make them stand out from others.
The neoclassical features of our Grand lamp post collection give you the opportunity to bring Early American design to your outdoor space. This set of lamp posts is available in heights from 10.5 feet to fourteen 16 feet. The height range varies from design to design.
Although the base of the post remains similar for all in the collection, you can choose whether a burial or above ground mount is best for your design needs. In addition, you have creative control over the style of your lamp post globe. Whether you choose Acorn or Octagon style globes, or another type, we know that you will love your new outdoor lighting feature.
Mel Northey has specialized in the creation and design of lamp posts since 1979. And, we've always attempted to incorporate lighting advancements into our products. Although the outside of the lamp post has all the design of the neoclassical age, Early America, or Greek or Roman architecture, the inside consistently adapts to new lighting methods.
Now more than ever, we seek to incorporate energy-efficient lighting mechanisms into each of our posts. This helps our customers save money on their electricity bill, while also lowering the levels of light pollution. If you are looking for a unique lighting feature for your outdoor space, give Mel Northey a call today!