Americana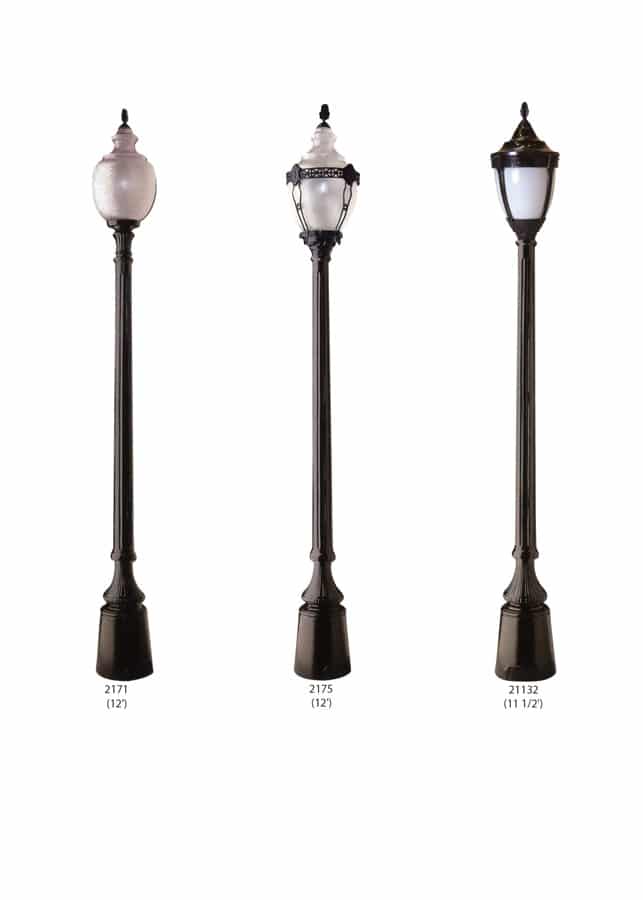 Residential Grade
Total cast aluminum post
Base diameter 16″
Fluted tapered shafts
Overall heights include post and luminaire
Dimensions and Price
Cat. No.
Height
2171
12″
2175
12″
21132
11 1/2″
Our Americana lamp pole is meant to gather nostalgic images of twentieth-century streets. This suburban, mid-century modern lamppost and base could be seen on Main Street USA or Independence Park on the Fourth of July. The Americana has a tapered and fluted shaft with a reverse fluted and upturned base and a solid plinth underneath with a 16'' diameter. Its access door rests in the flat, round base for easy maintenance. The overall measurements include the luminaire atop the pole and come in 11 ½ and 12-foot heights.
You should be able to imagine Mel Northey's Americana lamp post in both a Norman Rockwell illustration and your front yard. Bring some rose-tinted nostalgia to your neighborhood with this lamp while illuminating the walkway with long-lasting and energy-efficient LEDs. Its aluminum-cast is of a residential grade but is great for adding personality to your front entryway or a park.
Mel Northey has offered our affordable aluminum cast lighting solutions, decorative street signs, and mailboxes directly to the contractor, builder, and developer. So, we can help them choose the best style and design fit for your landscape project, including the Americana light pole. We have dark sky lighting options too. You can choose to use these in your Americana lamp, making for a greener Earth, darker night sky, and brighter stars by reducing light pollution and your energy consumption by 42%.