Capitol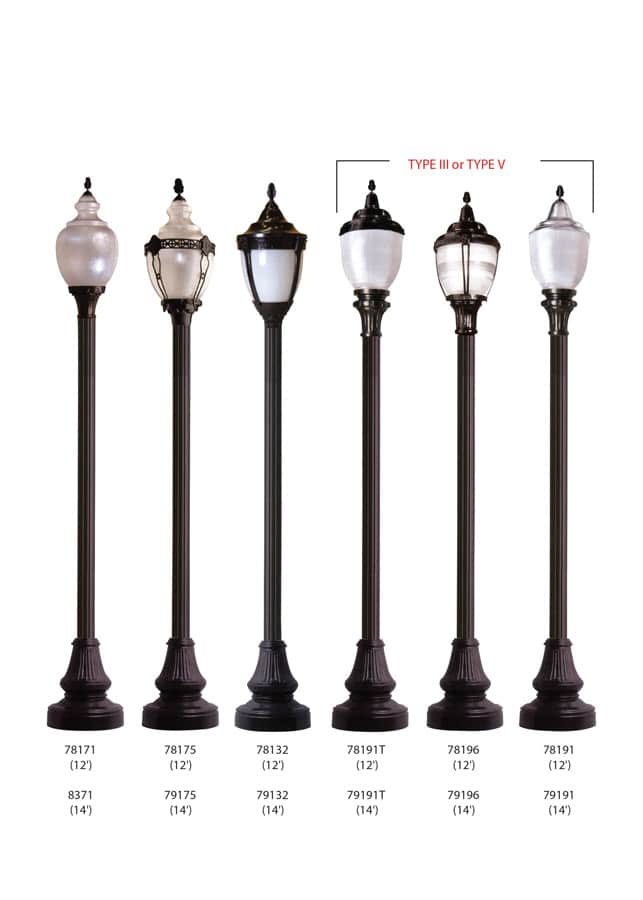 Heavy Duty Municipal Quality
Extra Heavy Duty Core Cast Aluminum Base for extra strength and durability
Non tapered deep evenly fluted tubular shaft
17″ Base, with Overall heights available in 12′, 14′ and 16′ Heights
TYPE III or TYPE V Prismatic Lens Standard with Reduced Glare
Deep Fluted Non Tapered Tubular Shaft
Dimensions and Price
Cat. No.
Height
78171
12′
78175
12′
78132
12′
78191T
12′
78196
12′
78191
12′
8371
14′
79175
14′
79132
14′
79191T
14′
79196
14′
79191
14′
*** Optional 16′ available.
Our Capitol selection of lampposts takes influence from a neoclassical style of columns. Its wide base and great height is meant to recall the towering columns guarding the entrance to a capitol building. Their poles are non-tapered and deeply fluted, one of our widest. And you can stand them up at 12 or 14 feet high. They come in either Type III or Type V light dispersion lenses, so they can either cast light across the walkway or outward, round and circular.
A Capitol Lamp is a perfect way to give your school, park, or front yard an impressive-looking entrance or walkway. The steep, reverse-tapered base represents a stable foundation. And its light brings this feeling to your dark walks underneath. The Capitol's elegant, classic design is paired with strong durability.
Mel Northey has marketed our affordable aluminum cast lampposts, decorative signs, and mailboxes directly to your contractor and builder. So, direct your developer to us, and we can set them up with the perfect fit lamp, like our Capitol lamp post, for your outdoor lighting. Plus, you can opt to use our dark sky solutions in your Capitol Lamp. With these, you reduce your energy usage by up to 42% and keep the night sky above you darker and the stars brighter.