Grand Concord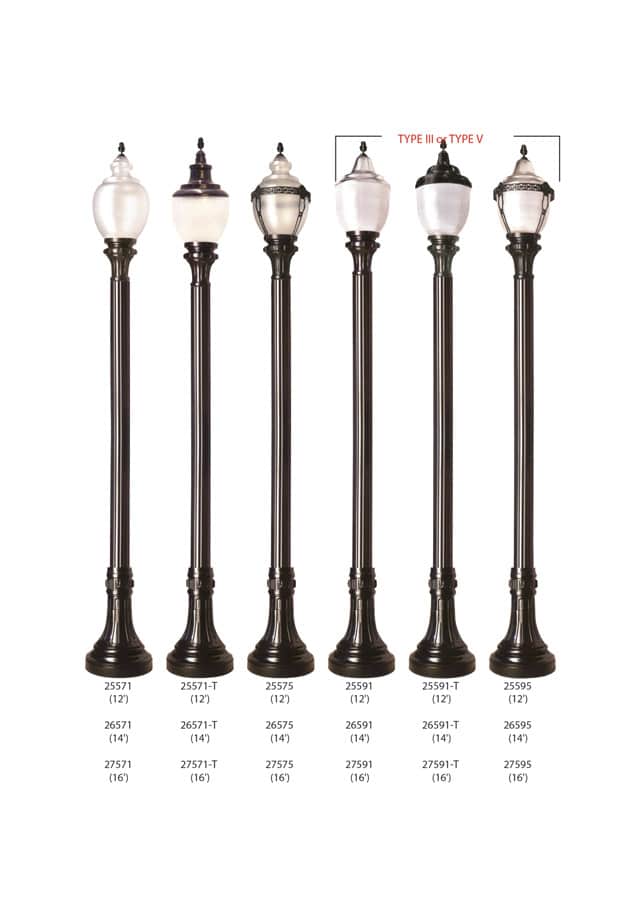 Heavy Duty Municipal Quality Core Cast Base
A Core Cast Base for extra strength and durability
Non tapered deep evenly fluted tubular shaft
17″ Base, with Overall heights available in 12′, 14′ and 16′ Heights
Heavy Duty 5″ tubular shaft with .160″ Wall 17″x 25″ Base
Overall light post 12′, 14′ and 16′ Heights.
TYPE III or TYPE V Prismatic Lense Standard with Reduced Glare
Overall Heights Listed include Post and Luminaire
Dimensions and Price
Cat. No.
Height
25571
12′
25571-T
12′
25575
12′
25591
12′
25591-T
12′
25595
12′
26571
14′
26571-T
14′
26575
14′
26591
14′
26591-T
14′
26595
14′
27571
16′
27571-T
16′
27575
16′
27591
16′
27591-T
16′
27595
16′
Our Grand Concord lamp post the Heavy-Duty Municipal Quality version of the Residential Grade Concord. Its heavy-duty weight means it has a 5'' wide shaft, .16'' thick wall, 17'' diameter base, and 25'' high base. The Grand Concord lamppost comes in 12', 14', and 16' heights, including the post and luminaire. Atop, you can place our lanterns with acorn globes, classical style caging, and Type III or Type V light dispersion lenses with reduced glare.
The Grand Concord lamp is a perfect way to get the same nostalgic design as our Concord lamp with the extra strength and durability of our Grand and Premier series. With these, you can bring the same American nostalgic feel to your city with Municipal Grade metal.
Ever since 1979, Mel Northey has been in the business of marketing directly to the developer and builder. We can set them up with the right fit of our affordable aluminum-cast lampposts, street signs, and decorative mailboxes for your outdoor landscape project. As of 2008, we have also offered our dark sky options. Here, you can use these in your Heavy-Duty Grand Concord lamp to prevent light pollution in your neighborhood parks and street paths. These reduce your energy consumption by up to 42%, keeping the Earth greener, night sky darker, and stars brighter.