Stratford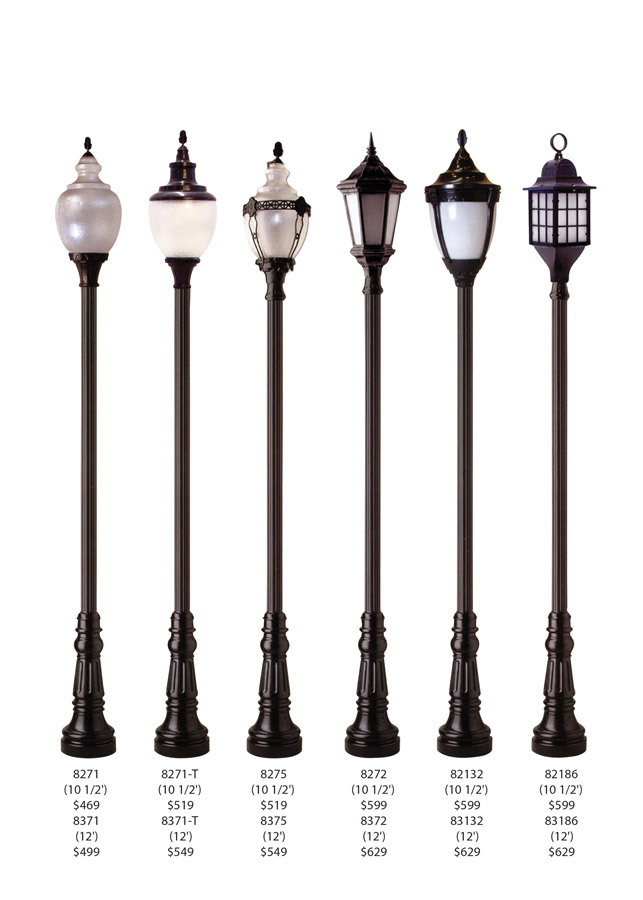 Municipal Quality withextra heavy duty Core Cast Base for extra strength and durability.
10 1/2′ to 12′ Posts
Surface Mount 4″x .125″ wall Heavy Duty Lightly Fluted Aluminum tubular post, with 12″ diameter core cast
1 piece base 30″ tall.
10 1/2′ to 12′ Posts
Now Available as "Ground Burial" or "Surface Mount"
Dimensions and Price
Cat. No.
Height
Price
8271
10 1/2′
$469
8271-T
10 1/2′
$519
8275
10 1/2′
$519
8272
10 1/2′
$599
82132
10 1/2′
$599
82186
10 1/2′
$599
8371
12′
$499
8371-T
12′
$549
8375
12′
$549
8372
12′
$629
83132
12′
$629
83186
12′
$629
Now Available as "Ground Burial" or "Surface Mount". Specify your choice with either GB or SM suffix on item number.
Municipal Quality with extra heavy-duty Core Cast Base for extra strength and durability.
Our Stratford lamp posts harken back to Elizabethan times. It has municipal-quality durability. The Stratford lamp draws inspiration from Shakespeare's birthplace, Stratford-upon-Avon. But you can customize it too, mixing in other influences. The Stratford post can come with a pagoda-style lantern, eight-sided geometric lanterns, and acorn globes. You can buy it with a Ground Burial or Surface Mount base and 10 ½' or 12' poles.Your Stratford lamp post allows you to flank your front door, driveway, gazebo, or walkway with bright, energy-efficient, and long-lasting LED lights. And its grooved design gives a touch of personality to your architecture.
Mel Northey has been marketing our aluminum-cast lampposts, decorative signs, and mailboxes, since 1979, directly to your project's builder or contractor. So, direct your contractor to us, and we can pair them with the right style for your lighting project. As of 2008, we have dark sky solutions in all our styles, including Stratford lamppost. With these, we make our night sky darker but with brighter stars, and you can reduce your lamp's energy consumption by 42%.