Tuscany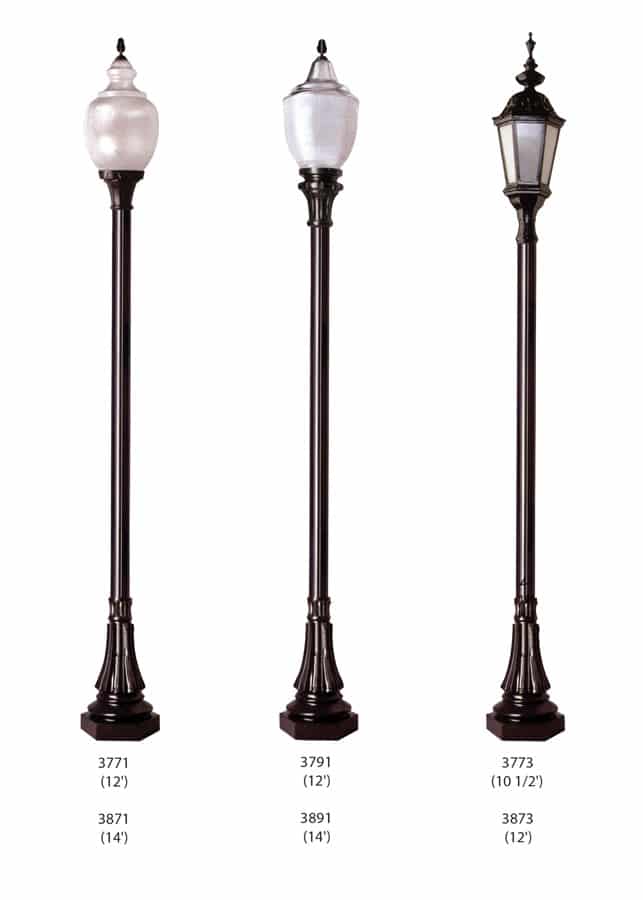 Municipal Quality with extra heavy duty Core Cast Base
Tubular Post Surface Mount
4″ x.125″ wall lightly Fluted
Tubular Post With 11″ Diameter Core Cast Base
38″ tall Available in 12′ and 14′ Height.
Overall Heights Listed include Post and Luminaire
Dimensions and Price
Cat. No.
Height
3771
12′
3791
12′
3773
12′
3871
14′
3891
14′
3873
14′
56-SM Surface Mount – On picture
Municipal Quality with extra heavy-duty Core Cast Base.
Overall Heights Listed include Post and Luminaire.
Our Tuscany Lamp takes influence from Florentine and surrounding areas' architecture. It has a smooth pole and base, but a deeply fluted base above its rocket-tailed, tapered ornamental base. You can have the Tuscan light pole with either a Ground Burial or Surface Mount base. Either way, it is a relatively easy installation. It utilizes an access door, making maintenance easy too. Your Mel Northey Tuscany lamppost can be paired with eight-sided geometric lanterns or acorn globes. And they come in towering 12' or 14' heights.
Inspired the lampposts lighting up the hills, vineyards, and courtyards of Italy, it is meant to be rustic but elegant. This lamp hopes to bring the feeling of the Renaissance with a hint of modern architecture. With this, energy-efficient, bright, and long-lasting LEDs will illuminate your yard high above your head.
As of 1979, Mel Northey was marketing our affordable aluminum-cast lampposts, signposts, and stylish mailboxes directly to the builder and contractor. So, send your developer our way, and we can fit your outdoor lighting project with the right style lamp, like the 14-foot Tuscan post. Plus, since 2008, our selections can come in dark sky solutions. These help you reduce light pollution in your park, yard, or patio. And they are 42% more energy efficient. With a dark sky Tuscany lamp, you keep the land greener, the night darker, and the stars brighter.