Street And Stop Signs Excel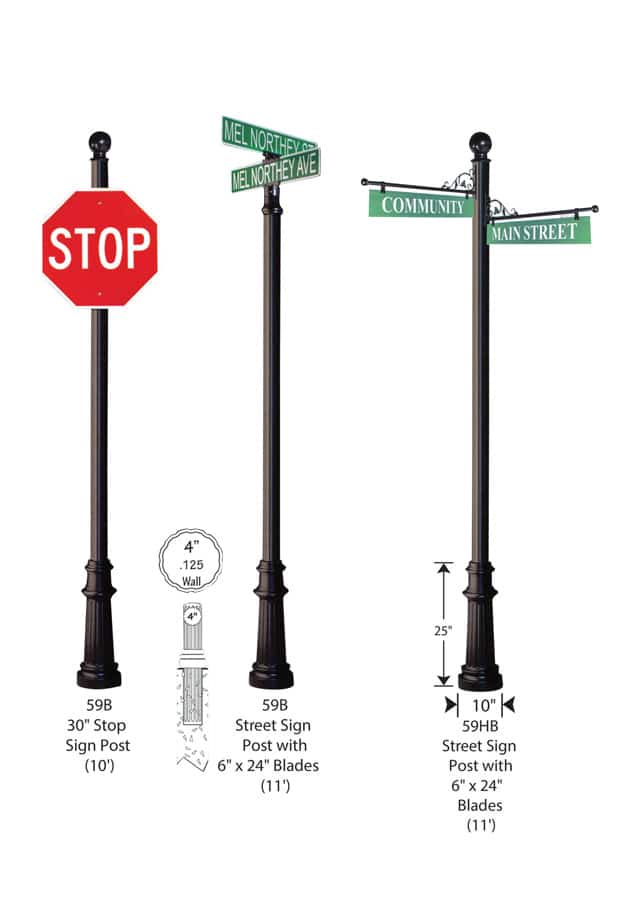 Residential Grade Classic Matching Streetscape Solutions
Add the "Look of Elegance" with 24″ and 30″ Stop Sign Backers
Easy Assembly Sign Brackets Included
All Stop Signs are "Engineer Grade" Red and White Reflective Sheeting
Great Selection of Signs and Backers Available
EXCEL features

4″ Heavy Duty Extruded Aluminum Post
.125″ Wall and 10″ Diameter x 25″ Height
1 piece Slip Over Cast Aluminum Base
Dimensions and Price
Cat. No.
Height
59B 30″ Stop Sign Post
10′
59B Street Sign Post with 6″x24″ Blades
11′
59HB Hanging Street Sign Post With 6″x24″ Blades
11′
These are similar in design to our Excel lampposts, meant to capture a nostalgia for an early 20th century American street. This option provides a wider fit, a 4'' diameter signpost. The 1-piece slip over aluminum-cast Excel base is 25'' tall and 10'' in diameter and has a .125'' thick wall. With 10' and 11', these tower over some of our Essex post. We have an option for hangers with an art nouveau, floral design for a "look of elegance."
Our residential-grade aluminum-cast post and decorative stop and street signs make a great addition to your outdoor remodel project. Both for personal projects, like putting your family name to your driveway, or to spruce up a neighborhood and give a grander look to it. The Excel signpost is a more imposing option with a 4'' diameter and with heights of 10' and 11'. It comes with "engineer grade" red and white and green reflective sheet metal for night vision.
We have provided our signposts, street signs, mailboxes, lamps, and lampposts. Since 1979, we market directly to your provider, developer, and contractor. We do the work to set them up with the perfect style and highest-quality aluminum-cast post and sign for your project.
As of 2008, Mel Northey has offered dark sky solutions. Using these in your lamps will reduce your energy usage by 42%, carbon emissions, and light pollution. It redirects the light downward where you actually need it. With them, we help keep America greener, night darker, and stars brighter.