To get things started, take a look at our catalogs for a full list of products. You'll be able to find great options for your streetscaping project. We have a wide range of affordable, traditional, and contemporary lamps, mailboxes, and street signs available for you. Download a catalog and start browsing your options.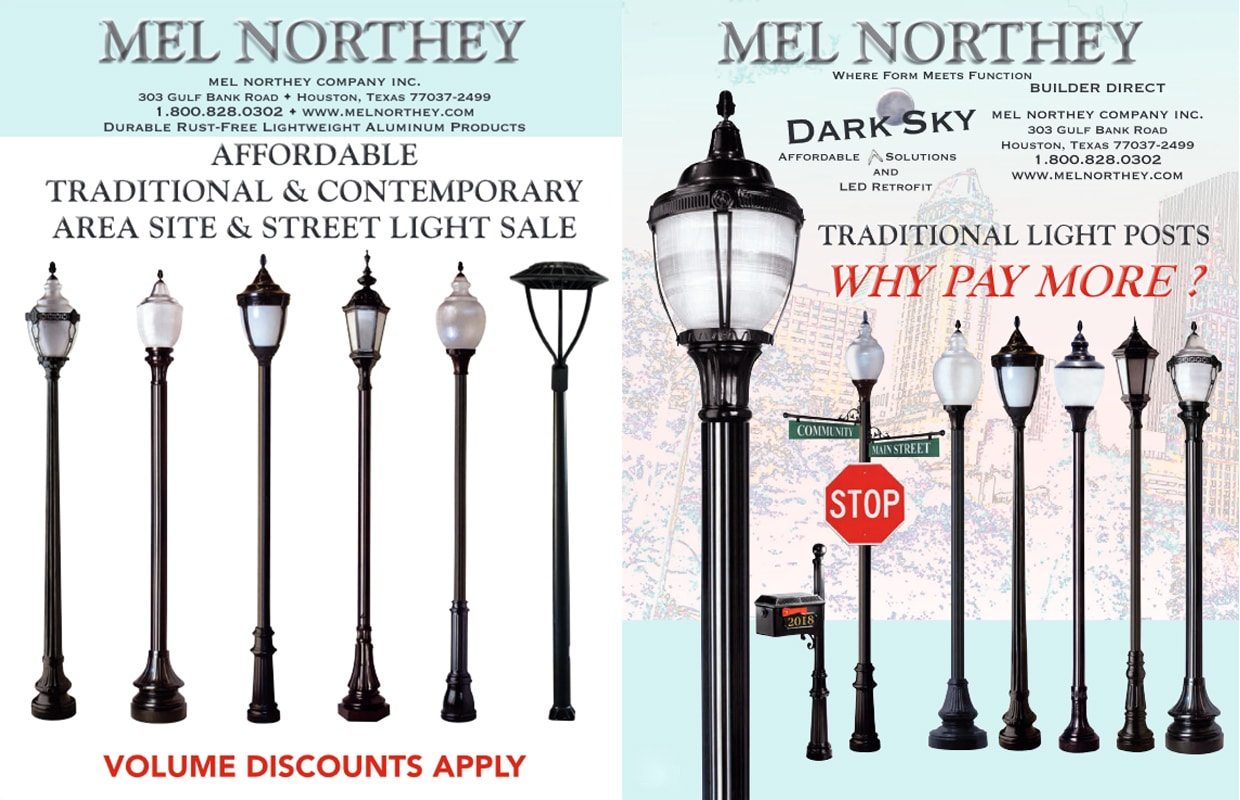 We've been selling affordable, lightweight, durable, and rust-free aluminum streetscape products for contractors, builders, developers, for over four decades. We also added traditional and contemporary light posts and luminaries that come in various sizes and styles. We build our posts to be heavy-duty and with municipal-quality core cast bases.
Various Stylistic Options
Here at Mel Northey Company, we focus our efforts on providing customers with an affordable line of streetscape products for the builder, developer, and contractor on a direct transaction basis. Our cast aluminum products offer a lightweight, durable, and rust-free line of street lights, yard lights, mailboxes, and decorative street and stop signposts.
The options for luminaries include standard accord shape and decorative trims. Our lanterns are heavy-duty aluminum and come in a variety of sizes and styles. We also have light sources with high-tech light-emitting diodes LED'S, HID (high-density discharge) ballasts in HPS (high-pressure sodium). These light sources are also available in standard incandescent or fluorescent configurations.
Dark Sky Friendly
Thes lighting options are designed to decrease the harmful and wasteful effects of light pollution due to skyglow, glare, and light due to trespass. You should note that there are different ways of achieving the goals you have. You can do so via full cutoff, cutoff, and semi cutoff with warmer colors, which will decrease the blue light effect. Moreover, we offer a wide variety of methods to help reduce harmful effects in addition to saving energy and high costs.
All in all, you're sure to find the right lighting solution when you shop at Mel Northey Company. All you have to do is give us a call, and we'll help you find the right option for you. Call today and get your order started.